---
Say goodbye to neck and back discomfort while using your Laptop or Tablet!
The 6 levels of adjustment optimize viewing angles while keeping your posture correct. You'll be comfortable to work as long as you need to. No more stiff necks and sore backs. Or Curl up in your favorite chair and enjoy your favorite movie, show or YouTube video.
The incredible 1-Second Open and Close design allows you to effortlessly bring the stand anywhere
: Business meetings, on trips, or your favorite cafe ( the one with the best lattes and killer WiFi). When folded, the stand is only 0.8mm thick! Premium Pouch is included for your convenience.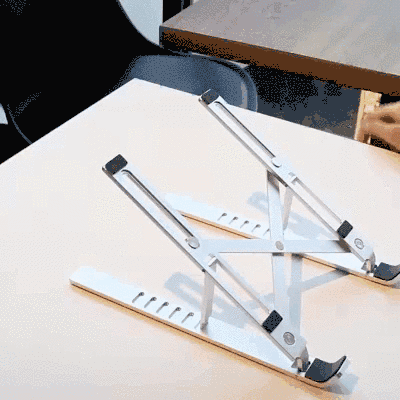 The ergonomic design is in place to have the best vision without overloading the lower back and cervical vertebrae. The size makes it practical and comfortable for everyday use.
Key Features
Multiple position adjustment: adjust your smart device height and angle to the position that fits you the most and avert much screen glare and back pain
No-slip structure: achieve more with the ultra support that comes from our triangular support design.
Easy open and close mechanism: All it takes to get all the support you need is a pull and push!
Promote your device health: our open-cut design ensures that your laptops and tablets get enough air circulation and reduces the chances of it heating up.
Great for many devices: enjoy the stable non-slip feature of our laptop stand across various devices of up to 20kg static load.
Durable and lightweight: weighing 211g and built with ABS, PC, and Silica gel,  use your portable non-slip laptop stand across various devices over the years with no disappointments.
(UPDATE: Due to the high increase in social media, our supply is going to run out very soon. Get yours while supplies last!) Not sold in stores - Online exclusive!