---
Do You Fear Cutting Your Childs Nails?
Say Goodbye to traditional baby nail clippers!
We created Premium Baby Nail Trimmer for those parents who struggle with a squirmy child.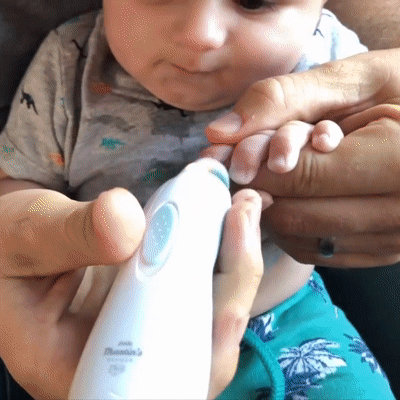 Cutting my daughters nails gives me like many parents anxiety every-time 😰 but I knew I needed a solution when our daughter began scratching her face in her sleep. 
How it works?
Our nail trimmer is specifically designed to safely and quickly trim and polish little toe and fingernails for both babies as well as adults. It is super soft and will not damage cuticles or nail beds.
No need for nail clippers, no need to fear cutting a babies little finger with nail clippers. Safe and easy trimmers for new-born nails or adults.
VERY QUIET DURING OPERATION: Are you going to use it at night while they sleep? Due to its whisper-quiet motor, you can cut their nails while they sleep without them even knowing it!
⭐⭐⭐⭐⭐ - "This is a game changer, I wish I would have known about it with my first child!" - Sandra
BENEFITS:
 EASY TO USE - One button operation
Just move the central button up or down to select the working modes (fast & low speed, clockwise & anticlockwise rotating).
 CARE AND SAFE  - Suitable for Newborn for age 0 months +, Safer baby nail file won't damage cuticles or soft nail beds, that are the easiest and safest way to keep your baby's nails trimmed!
 VERSATILE TOOL - The set comes with 6 nail pads suitable for babies of different ages (0-3 months, 4-11 months, 12+ months) as well as adult-use.

 ELECTRIC NAIL FILE - soft LED front light and whisper-quiet motor and 2 pieces AA batteries (Not included) operated, you can trim your baby's nails very convenient without waking them up when they are sleeping

 ADJUSTABLE SETTINGS - The baby file nail comes with 6 cushioned sandpapers in precise grit Levels, including 3 cushioned safe sandpapers for babies and children, as well as 3 attachments for adults

 COMPACT DESIGN - One-button operation features Portable and lightweight when you travel or outdoor, you and your baby will have a full healthcare in this baby nail clippers
PACKAGE INCLUDES :
6 x Grinding Head
1 x Portable Nail Trimmer
(UPDATE: Due to the high increase in social media, our supply is going to run out very soon. Get yours while supplies last!) Not sold in stores - Online exclusive!